William Blankenship Bill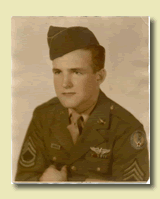 BILL (William Blankenship) 5 Nov. 1923 - 14 Lug. 2003
Aveva 19 anni quando gli dissero: Va' e fa' il tuo dovere, e lo caricarono sull'aeroplano che dagli Stati Uniti d'America lo portò a fare la guerra nei nostri cieli. Cessò di volare un mese prima che la sua stessa squadriglia aerea prendesse di mira Arenzano e la sua chiesa, distruggendola (14 Agosto 1944).
Di quel periodo e d'altro, via Internet, William Blankenship, veterano del Gruppo Bombardieri 449, sq. 717, del 15° Air Forces USA, accettò di corrispondere con noi in preparazione dell'annunciato secondo volume sulla guerra, fornendo notizie e soprattutto numerose e originali foto d'epoca, che costituiscono a distanza di tempo un avvincente legame tra le esperienze di quest'uomo e della nostra comunità.
Abbiamo comunicato ancora l'8 luglio 2003, ringraziandolo per l'ennesima promessa di invio di materiale. Il 14 Luglio l'e-mail della figlia Elinor annunciava la sua morte a ottant'anni.
Non sappiamo quale cielo il suo spirito abbia immaginato dopo la vita, ma commossi non possiamo che augurargli grandi ali per l'ultimo decollo, per il volo che non finirà più e che, di certo, lo porterà ancora ad incrociare le nostre rotte (chissà quando, chissà come) nell'unico e definitivo
BILL
(William Blankenship) Nov.5, 1923 - July 14, 2003
Was 19 years when they said to him "Go and do your duty", and boarded a plane that from the United States of America carried him over our skies. He had ceased to fly a month before its same aerial squadron took aim to Arenzano and its church, destroying it August 14 1944.
From that time on, via Internet, William Blankenship, veteran of the Group Bombers 449, sq. 717, of 15° Air Forces USA, accepted to correspond with those in preparation of the second volume on the war, supplying news, numerous and original above all photographs of that period, that constitute a distance of time, a winning connection between the experiences of that man and of our community.
We communicated still until July 8 2003, thanking him for the material of consignment which was promised. On July 14, e-mail from his daughter Elinor, announced his death at eighty years old.
Not knowing what the skies have imagined after life for his spirit, we are moved to wish him a large pair of wings for his eternal take-off for which it will certainly carry it still to cross our paths (who knows when, who knows how) but definitively in our celestial space.
Le seguenti parole erano state scritte in memoria di Bill in una pagina di un sito americano oramai non più in linea.
William Blankenship Nov.5, 1923 - July 14, 2003
We all take different paths in life. But no matter where we go, we take a little of each other, everywhere we go!
Not long after the Kearns Historical Society was established I received a note from Elly, telling me her father was stationed at Kearns. By December 30, 1998 I had a visitor William Blankenship. His daughter Elly was living in Arizona; Bill was living in North Carolina. Resisting the winter storms he drove cross country to Ellys home and then on to Kearns just to see what we were doing. And from that moment on I knew I had found special friends for life. And so it is that it is with a heavy heart that I write this memorial for him. Bill was a kind gentle man, with a heart of gold always eager to support my little project and anxious to offer guidance to those who were looking for information about their own fathers military life. Today many people have a void in their lives, with Bills passing. I am one of them, but I thank God for the times we shared the jokes, laughs, and history lessons. He was my ray of hope, that added a special spark in my life, and when in doubt I thought of him and knew what I was doing was the right thing to be doing.
Bill lived in Black Mountain North Carolina where he raised three daughters. He retired from Railway Express Service, and a member of the Brotherhood of Railway Clerks. He was an enthusiastic lover of trains and railway history, often times talked about coming back to Utah to see the "Golden Spike" anniversary.
Bill entered the Air Force in January 11, 1943 was sent to Keesler field for basic training, receiving further training at Kearns, Mountain Home, Tonaph and Hamilton before going overseas in route to the Mediterranean Theater. Flying on B-24 Liberators, on a plane named "Worrybird" as a turret gunner and chief engineer with the 719th Bombardment (H) Squadron. He flew a total of 33 missions reaching the rank of Tec. Sergeant, receiving 3 oak Leaf Clusters, bronzed service star and distinguished Unit Badge. He was Honorable Discharge in October 28, 1945 at Seymour Johnson Field in North Carolina.
His parents had three sons who answered the pleas of Uncle Sam during WWII. Bill and his brother Hugh were both serving in Italy at the same time.His two brothers Hugh and George also survive him.
I once asked Bill what he would like to be remembered for, being a simple man he replied, for just being me, I did nothing more than the next guy. I had to chuckle a bit at it, as this was the same comment I had heard so many times before from others I had asked the same question. As for me I shall always remember him as the guy who did nothing more that the next guy, but it was the way he accomplished the tasks ahead of him. Always with pride, not only for himself but also for his family, with honesty because that reflects upon his family and with respect because thats what he had for everyone he met. And in return it was these qualities that anyone who was lucky enough to meet Bill admired most in him. All of us who were lucky enough to call him friend will always carry with us a piece of him in our hearts. God Bless you Bill until we meet again.